ChiChis And Me is a website dedicated to these amazing little creatures.
Hello, I am so glad you are here. My name is Linda and I am an author, owner, and designer of this website. I am also a  stay-at-home Chihuahua mommy. Our family now includes me, my husband and our three adorable, beloved four-legged Chis, Chico, Pebbles and Remedy Jane. (read about them HERE) I love all kinds of pets. As our children were growing up (the two legged kind) we had all kinds of pets. We had hamsters, ferrets, dogs, cats, and a cockatiel. Although I'll admit some were harder to love than others, we loved them all. But, we had never had a Chihuahua. Then I was given the greatest gift I have ever received from another person.
We named that gift, Chico and just like that I fell in love.  Not only did I fall in love, but Chihuahuas became my passion! I love everything about Chihuahuas and their sassy little attitudes! They are protective, loyal, loving, and a joy to be around.
I fell in love so hard that I later got two more and I will for the rest of my life have Chihuahuas. I'd have a house full of Chihuahuas if I thought I could give them all the love and care that they deserve.
MY MISSION:
If you are a Chihuahua owner then undoubtedly, you think that your Chihuahua is the cutest, smartest, sweetest, etc, and you would be absolutely correct. Unfortunately, not everyone thinks or more appropriately, knows that they are ALL the cutest, smartest, sweetest, etc.
Whenever I go anywhere, especially when we travel, they get lots of ewwws, awwws, and attention. I also inevitably get comments like: "what is it a rat?", or "these are so sweet (or calm), I always thought Chihuahuas were mean little dogs. "I would never have a Chihuahua, they are vicious", or I even had someone call them "Mexican-Pitbulls"…… ok that one was cute. 🙂
Even my Veterinarian always comments on how sweet and calm they are. When I said, it just takes training, he actually said that some of them are just born mean! I could not believe that came from a veterinarian! There are some pretty mean people in the world, do you think they were born that way, or does it have more to do with their environment, discipline and or nurturing? The later you say? I agree!
Discipline: (noun) Training that CORRECTS, molds, or perfects the mental faculties or moral character.
There is nothing in that definition about "punishment". Sadly, to some people, discipline means punishment, scolding, yelling, or even hitting. NEVER EVER EVER HIT OR YELL AT YOUR DOG! When you do, you are only making your dog fear you. Chihuahuas react to fear by biting and growling. Unlike what some people believe, Chihuahuas are very aware of their size. If they are afraid, they will do what they think is necessary to hopefully scare the threat away.
It is my mission to change people's perception of them. It is also my mission to help Chihuahua mommies and daddies to train their little bundle of love and help them to keep their dogs healthy and happy, as ALL dogs should be. They have been entrusted to us and depend on us for all their needs. They deserve the very best that we can give them.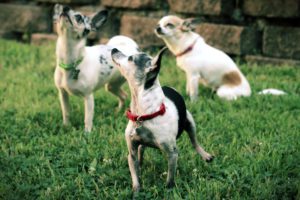 With this website I want to inform with the latest health and nutrition information, training and behavior tips, and entertain with chihuahua photos and videos.  Most of all, however,  I want to inspire you to share with your friends and family so everyone will come to love these amazing little dogs!  I hope you will come along with me on this journey and that you will share with me your experiences and stories about your amazing little Chihuahua(s).
I am here to help! If you are having a problem with your Chihuahua that you don't know how to handle, leave a comment or question in the comments section below. All Chihuahuas are unique, so if I don't know the answer, I will FIND the answer for you.
Join me and together we can help change the Chihuahua reputation and help everyone to know that they are amazing little creatures.
THANK YOU FOR VISITING!
Visit us on our Facebook page and be sure to "like us" while you are there. We have a free, interactive monthly newsletter that has more health and training tips along with more photos, and videos. Each month has a "Chi of the Month" photo from our readers and a recipe.Sometimes there is even a DIY. There is a section that highlights an inspiring or heartwarming Chihuahua story. It is jammed packed with so much you won't believe it's free! Be sure to SUBSCRIBE.