ChiChis And Me is a website dedicated to these amazing little creatures.
Hi, everyone! My name is Linda and I am a full-time professional blogger and stay at home mommy to three amazing Chihuahuas, Chico, Pebbles, and Remedy Jane. I started this website in 2015 and have been a full-time blogger since. I also am very experienced in raising and training Chihuahuas and have volunteered at our local animal shelter. I am devoted to helping Chihuahuas and their owners, guardians, moms and dads everywhere to live the best life ever together! I am totally dedicated to these amazing little creatures.
Although I began this journey as a way to document my life with Chihuahuas, it has become my full-time career and now I  spend time with my beloved Chis as well as share with my readers' helpful information and advice for all Chihuahua parents everywhere. I have readers from the US, Canada, the UK, Germany, Japan and many other countries.
In my blogging journey, I have met other pet parents all over the US and have attended some major educational events such as BlogPaws 2017. I have the privilege of working with pet companies to provide you with other pet news and products.
I have been dedicated to Chihuahuas since I got my first Chihuahua as a gift! He was and still is the greatest gift I have ever received from another human being and I will be forever grateful.
MY MISSION:
If you have a Chihuahua of your own, then undoubtedly, you think that your Chihuahua is the cutest, smartest, sweetest, etc, and you would be absolutely correct. Unfortunately, not everyone thinks or more appropriately, knows that they are ALL the cutest, smartest, sweetest, etc.
But, sadly, Chihuahuas are the second most often euthanized dog breeds in the US, and Canada, second only to pit bulls. I want to do everything possible to change this terrible statistic and to inspire others to join me in this quest.
Pitbulls and Chihuahuas are the two most common breeds found in shelters and because there are so many of them it is difficult to find them all homes. Neither of these breeds inherently has behavior problems, but like any dog, they can be difficult to manage.~ National Geographic
It is my mission to change people's perception of them. It is also my mission to help Chihuahua mommies and daddies to train their little bundle of love and help them to keep their dogs healthy and happy, as ALL dogs should be. They have been entrusted to us and depend on us for all their needs. They deserve the very best that we can give them.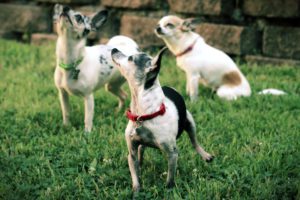 Visit us on our Facebook page and be sure to "like us" while you are there. We have a free, interactive monthly newsletter that has more health and training tips along with more photos, and videos. Each month has a "Chi of the Month" photo from our readers and a recipe.Sometimes there is even a DIY. There is a section that highlights an inspiring or heartwarming Chihuahua story. It is jammed packed with so much you won't believe it's free! Be sure to SUBSCRIBE.