Blue Buffalo Dry Dog Food Review
                                                   Before you buy: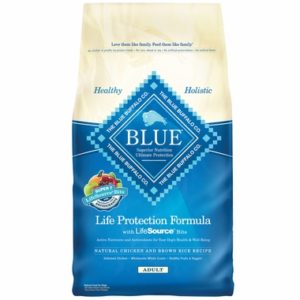 You should know there are five different formulas of Blue Buffalo Dry Dog Food, they are:
Life Protection Formula: These formulas include chicken, fish or lamb, grains, veggies and fruit. They add what they call "LifeSource Bits". According to their website these are a "precise blend of nutrients that have now been enhanced with our Super 7 package of antioxidant-rich ingredients, contains no chicken or poultry by-product meals, corn wheat or soy and nothing artificial. It is formulated for all breed sizes and life stages.
Blue Freedom Formula: These are for dogs that don't do well with grain-based foods. It contains no grains and has no glutens that can trigger allergic reactions in some dogs.
Blue Basic Formula: "For dogs that show signs of being sensitive to some of the ingredients used in traditional pet foods, less may be more. It is a healthy and holistic, limited-ingredient diet formulated to minimize food sensitivities while maximizing the nutritional value that your dog will receive. The basics formula is made without corn, wheat, dairy, soy or eggs and is available in several grain-free formulas."
Wilderness Formula: "Inspired by the diet of wolves, true omnivores whose endurance is legendary, this formula is a protein-rich, grain-free food that contains more of the delicious meat dogs love."
Blue Natural Veterinary Diet Formula: "When it comes to choosing a therapeutic diet, pet parents now have a natural option for their canine companions. This formula offers your dog an effective solution with the natural, wholesome ingredients you'll feel good about feeding your furry family member. It is available exclusively through veterinarians.
Ingredients:
According to their website, "BLUE foods consist of the finest natural ingredients combined in perfect balance for holistic nutrition. These delicious, high-quality ingredients are the foundation of all of our products along with essential vitamins, minerals, and antioxidants – each specifically formulated for dogs, cats, lifestages, weight conditions, taste preference, and personal feeding choice."
Proteins – Deboned chicken, lamb, or fish
Fats – Canola and flax seed, fish oils from herring and salmon and chicken fat
Carbohydrates – They never use corn, wheat or soy
Vitamins
Minerals
Water
What I like:
This dog food got 5 stars everywhere I looked. People said that it helped their dogs that had allergies, lose weight and have a shinier coat than other foods they tried. Many mentioned that their dogs stools were firmer and easier to pick up.
What I didn't like:
I really didn't find very many negative comments at all. The one thing several mentioned was that it was pricey. So, that is something you will have to consider when buying.
SUMMERY:

I would give this product 5 stars. It has healthy ingredients and none of them are wheat, corn or soy. Protein is listed first in the ingredients, either chicken, lamb, or fish. The one consideration is the price. I think the price is reasonable and comparable with other dog foods with similar ingredients. Whether the price is a negative for you or not, of course depends on your lifestyle and situation. Only you can evaluate that.
For more information on dog food and how to choose what's best for your dog click here.
The truth about the 2014 lawsuit against blue buffalo:
You may have read many misleading articles about Blue Buffalo Pet Foods. On May 6, 2014 Purina filed a lawsuit against the company claiming that they lied about their ingredients and included meat by products, which the company has always denied. A few days later (May 14, 2014) Blue Buffalo counter sued Purina with a false and misleading advertising lawsuit. On June 15, 2016 consumers learned that Judge Rodney Sippel dismissed many of Purina's claims for false advertising against Blue.
In another court document of the original Purina versus Blue Buffalo trial filed June 17, 2016, Blue Buffalo makes some enlightening statements. From the Preliminary Statement of Blue Buffalo's Opposition to Nestle Purina's Motion to Dismiss (bold added): "After years of concealment, Nestlé Purina's Vice President of Purchasing has admitted under oath that his company procured and used the same Wilbur-Ellis "chicken meal" that Blue Buffalo purchased—and, thus, that Nestlé Purina's own products were mislabeled for the same reason that Blue Buffalo's were. Blue Buffalo has already acknowledged its inadvertently inaccurate statements and agreed to make restitution to affected consumers. Nestlé Purina, however, will apparently stop at nothing to avoid taking responsibility."
You can read more about this and a download a PDF of the full document at
The Truth About Pet Food
.