HOW CAN THIS LATEST TECHNOLOGY HELP YOUR CHI?
Newest Pet Technology
Do you have a fit bit or other wearable technology to monitor your activity, sleep, and heart rate? The number of people that do is growing rapidly. It is a great way to motivate people to be and stay healthy.
What about your pets? Wouldn't it be great if they had that for pets? Guess what? They do! Technology is ever growing at such a rapid pace, we can't even keep up with it anymore.
Felcana Collar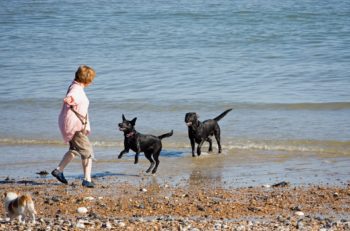 I just read an article on CNN published January 21, 2017, about a collar that connects to a smartphone app being developed by a Veterinarian in the UK that will help both owners and Veterinarians monitor your pet's health. According to Dr. James Andrews, the Felcana collar not only tracks exercise but also how much your pet is eating and drinking, it's sleeping and daily behavioral patterns and unusual activity. Things like pacing or hiding. He says that it can detect early signs of diabetes, obesity, and arthritis.
"Pet behavior can tell us a lot about pet health – for example, a dog or cat might drink water four times a day when they're healthy, but if that goes up to 20 times a day it can be an early indicator of diabetes." ~ Dr. James Andrews.
What It Does:
As pet owners, we may think we know what our pets are doing and how they are spending their days, but as busy people – as we all are – there is no way we can keep constant track, but this collar can. Dr. Andrews said that as well as the benefit to individual pets, the data collected would enable the company to build up an information bank that would further veterinary research.
When Will It Be Available For Purchase?
The developers have been given a £100,000 government grant and are currently raising another £500,000 that they need to begin full-scale production of the Felcana collar.The company expects to launch the product in August this year (2017) after showcasing it at the Duke of York's Pitch@Palace initiative which gives entrepreneurs the chance to meet investors.
What's Available Now?
There are other wearable pet monitors that track your pet's activity levels and these can be beneficial in detecting early signs of Arthritis or Obesity, however, the Felcana collar will do so much more!
The Felcana collar not only tracks exercise but can monitor how much your pet is eating and drinking, its sleeping and behavioral patterns and unusual activity such as pacing or hiding.