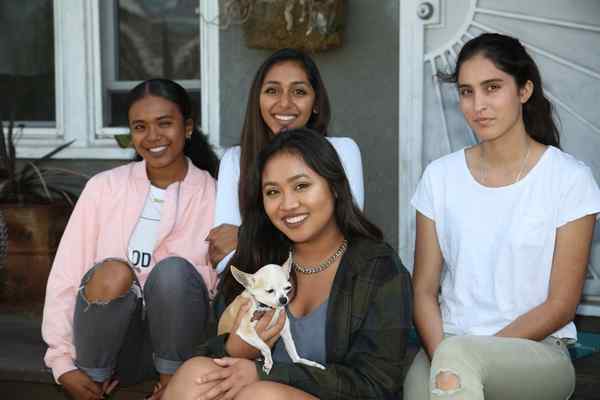 Piper Sanders, the disabled 4-pound Chihuahua rescued by a group of Hawthorne students last month as part of a senior class project, has found her new, permanent home — and she'll soon have a new career, too.
A retired Torrance couple, Al and Mary Shadbourne, who visit area hospitals with their therapy dogs, saw the Daily Breeze stories about Piper and decided to adopt her to join in their pack with a mission.
"Little Piper Sanders is in good hands and has a career awaiting her," said Mary Shadbourne, a retired special education teacher with Torrance Unified School District.
After reading the April 30 article, her husband, a retired mechanical engineer, went to see Piper at the local adoption sponsored by Noah's Bark, the group that listed the rescued dog for adoption.
"We (felt) we already knew her because of the article," Mary said in a telephone interview. "I was out of town, so I told Al to go check on that little doggie, and the rest is history."
The stray dog was believed to be at least 10 years old and had bad teeth and a fractured leg.
It was a good fit in several ways. Piper Sanders was named by the students, avid fans of presidential candidate Bernie Sanders.
"I said, 'We love Bernie Sanders,' and they said, 'We love your (Bernie) bumper sticker,' " Mary said.
After just three days with the Shadbournes and their other therapy dogs, Piper was settling in well, she said.
"She's perky and very excited to see us, she greets us at the door with the other dogs and hops around. She's found her place in the pack."
Piper is also a determined lap dog.
"She wants to be picked up and she doesn't care whose lap she sits on, as long as there's a lap under her," Mary said.




The couple already takes their 60-pound border collie mix named Buddy and another three-legged Chihuahua named Kanga on regular visits to local hospitals, including Del Amo, Long Beach Memorial and Rancho Los Amigos in Downey. Once Piper Sanders goes through some training, testing and is registered with Paws for Healing, she will join them as a "carry-on" canine visitor, probably in the fall, Mary said.
"We visit many, many places with (our dogs) and we thought she'd be perfect," she said.
Noah's Bark agreed, saying Piper would make an excellent therapy dog.
Dog therapy work is among a myriad of volunteer activities the couple, whose children are all grown, are involved in, Mary said, adding that she is a volunteer with hospice and No One Dies Alone, a program at Providence Little Company of Mary Medical Center in Torrance.
Their work with the therapy dogs takes them on hospital and rehabilitation visits several times a month. The animals can have remarkable effects on patients with both physical and mental challenges, she said.
"Sometimes it's miraculous," she said. Her husband tells the story of a woman who had been sitting in the corner of her room, refusing to speak, at Del Amo Hospital.
"He brought a dog in, the dog put his head in her lap, and she started talking to the dog. She finally got up and joined the (therapy) group," Mary said.
"There have been studies that have shown that dogs, for people who like dogs, are a calming and comforting presence. … And if you have a perfect dog, it's a shame to keep him in your backyard or house and not share him with the world."
For Piper Sanders, a discarded Chihuahua in a city shelter whose future was grim until a group of determined teenagers decided to save her, a new life asking her to inspire others seems like a natural next chapter.
"She's just so mellow and sweet, so affectionate," Mary said. "I know she's going to make a great therapy dog."

Please Share this by clicking on one of the icons below: