This Give-A-Way Has Ended. Any Entries After 5:00 pm Central Time August 26, 2017, Will Not Be Eligible. Our September Give-A-Way Will Be Announced Soon!
ChiChis And Me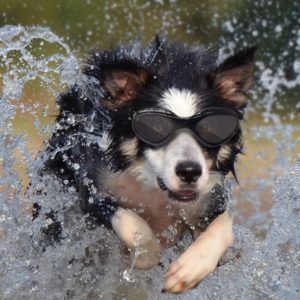 ….. is happy to announce our newest give-a-way! You could win these cute, yet practical doggles for your dog. Your dog will thank you for protecting his/her eyes. To enter, please read the rules and then fill out the form below.
Your dog will feel so "posh" in these stylish doggles. Besides looking good these doggles will also protect their eyes.
Windproof
Adjustable head and chin straps
Color: Black
GIVE-A-WAY RULES:
You must be at least 18 years of age to enter. There will be only one winner. The winner will be notified by e-mail. The winner will be announced here and on all our other social media channels only with the winners permission. See Our Privacy Policy. Open only to those not already subscribed to or a member of ChiChis And Me
GIVE-A-WAY BEGINS:
August's give-a-way begins August 3, 2017, at 5:00 pm CDT and it ends August 26, 2017, at 5:00 pm CDT
By Entering
As well as being entered to win, you will also get cool stuff for dog parents right to your in box. We send out two (sometimes three) emails a week, so you don't have to worry about us slamming you with spam! You get exclusive content including the latest health and wellness tips, training and dog behavior tips, tips on keeping your senior dog healthy, as well as cute photos and videos! Best of all, you get exclusive, members only Great Deals on pet supplies.
You can also sign up to receive our Newsletter once a month. In each issue of our Newsletter, you will get even more cool stuff for dog parents that only our newsletter subscribers receive. We feature a "Chi of the Month" photo (it could be yours), a "Good for Them Recipe", cute Chihuahua videos, along with lots of great tips and information geared especially for Chihuahua moms and dads.
Don't forget to add us to your e-mail contacts or "safe sender" folder. The winner will be notified by e-mail and will have 48 hours to respond or they will forfeit the prize and another winner will be chosen.