I am dealing with a nightmare skin condition called lick granuloma. My sweet little Pebbles has developed this skin condition just in the last year. I have been giving her oral medications from the Veterinarian and putting a prescribed topical medication on the affected area and she goes in twice a week for laser treatments. I first wrote about this in June 2016 and here it is January 2017 and I'm STILL DEALING with it. Of course, it's my baby girl that is actually dealing with it and I am desperately trying to cure it for her!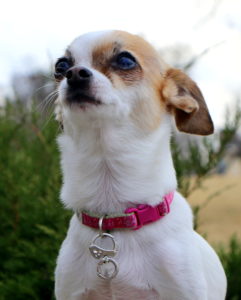 I know I am not the only person that is dealing with this problem, so I decided to talk about it here. I have done lots of research and consultations with our veterinarian and this is what I have learned and I want to share it with you.
WHAT IS IT?
This skin condition has many names. It is called:
Acral lick dermatitis
Acral lick granuloma
Acral lick furunculosis
Acral lick lesion
Acral prunitic nodule
ALD
According to Ian Spiegel, VMD, MHS, DACVD, it is a self-induced dermatologic condition that develops from compulsive or chronic incessant licking in one or more areas (usually foot or leg area). It is one of the most challenging and frustrating conditions for veterinarians to treat. Thus my nightmare!
WHAT ARE THE CAUSES?
There are many factors that may trigger the excessive licking. These are
Itchy skin
Pain, joint or bone
Boredom
Stress
Obsessive-compulsive disorder
Itchy skin may be caused by things like allergies or from foreign material such as a suture, grass awn, thistle spine, a splinter, bee stinger, metal, or gravel.
Pain may be from a previous injury, mites, cancer, orthopedic disorders like arthritis, joint disease or bone pain.
Boredom may be a cause if you have an energetic dog that is left on his own for many hours of the day.
Stress can be caused by anxiety. It can be triggered by environmental things such as a new child, or pet in the home. A death in the family, or moving may be causes for anxiety also.
Obsessive-compulsive disorder can also be a factor. Animals as well as humans can be diagnosed with this disorder.
It becomes a nightmare to try to treat because the skin is so deeply affected that clear down to the base layer of the skin there can be little pockets of bacteria, broken hair follicles, plugged and scarred oil glands and dilated, inflamed capillaries.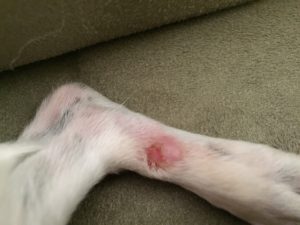 It is also believed that the condition is exacerbated by the idea that local cells or nerves become damaged and release endorphins that act not only as strong analgesics, but also provide a natural "high" that just leads to more licking. It becomes a seemingly impossible cycle to break.
WHAT ARE THE TREATMENTS?
The main concern is infection, so that is usually the first treatment. The infection often requires 6 to 12 weeks of oral antibiotics. Because each dog is unique, what works for one may not work for another. Therefore, it may be necessary to try different treatments until you find one that works for your dog. As always, consult with your veterinarian before starting any type of treatment. Some of these treatments may include:
Anti-inflammatory medications
Topical medications
Electronic "bandages"
Physical barriers (bandages, cone collars)
Behavioral modification
Surgery or laser treatments
While lick granulomas are difficult to cure, they are usually manageable. This is rarely a life-threatening condition, although it is irritating for the dog, and as I can attest to, for the owner as well. Dogs that receive early treatment have a much better chance for a favorable outcome than dogs with advanced conditions.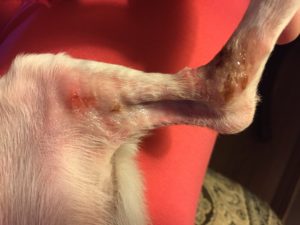 Pebbles is still on antibiotics and so far the laser treatments don't seem to be helping much. We will soon be making a trip to see our veterinarian again to perhaps try some anxiety medications. I hope we can solve this problem soon, it is distressing to me to see this open wound on her tiny little paw and watch her excessively lick it. I am hopeful that we will find the right treatment and thankful that we at least began treatment early.
At this writing, we've been dealing with it for over a year. We get it all healed up, the hair grows back and she'll start a new one all over again. At this time, along with the antibiotics that she is back on, I put a topical ointment on it every morning, afternoon and again in the evening. She has to wear her Elizabethan collar every day (some call this a "collar of shame, I think that name is shameful! Why should she be ashamed?). Then I wrap it every night so she won't have to wear the collar to bed. The wrap won't work for during the day because she just keeps licking and biting it until she gets it pulled down far enough she can lick the spot….. or if you don't wrap the entire leg, she starts a new one. I also am giving her melatonin every day for anxiety.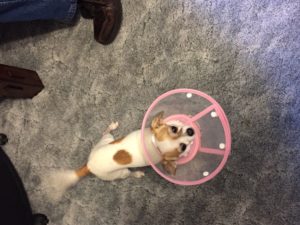 As I said, I have tried many things and nothing has stopped her licking for a long period of time. My vet's plan now is to continue the prescribed mentioned above and do it long enough that we can break the cycle. She is still a happy little camper, as you can tell by the wagging tail in the photo!
If you are now dealing with this nightmare, I wish you luck and don't give up. Keep trying different treatments and consult with your veterinarian until you find what works for your dog. If you have had to deal with it and have found something that works that I haven't mentioned, please, please share it with me and my readers in the comments below.
How Much Melatonin is Safe

| Weight | ML |
| --- | --- |
| under 10 lbs | 1 |
| 10-25 lbs | 1.5 |
| 25-100 lbs | 3 |
| over 100 lbs | 3-6 |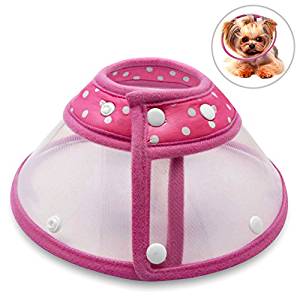 As you can see in the above photo, I got Pebbles a new collar. Since she has to wear it so often I looked for one that was comfortable. This one really fits the bill! What I love most is the comfort and it is a softer, lighter weight plastic that is more pliable, but protects well at the same time. It is deep enough that she can see well, eat, drink and even sleep comfortably with it on, BUT SHE CAN'T REACH HER LEG. Best of all, at the time of this writing, it's on sale for only 10.99!
collar is carefully crafted from durable PVC which is lightweight and padded inner liner with soft velvet edge. It is sewn with double stitches by machine permitting accurate fitting and joining to bear large pulling force. The collar is tiny very much, but button closure make it easy to wear and is perfect for you to slightly adjust the length

ERGONOMIC CONE DESIGN! – It is perfect for recovery, surgical operation and grooming occasion to defend your friend against worsening the healing wound or injury, safeguard for taking a bath and trimming the nails or having its hair cut. It provides a good protective effect for daily use

it comes in pink, blue and black
These are some more products to add to your arsenal of things to try if you and your dog are dealing with this horrible skin condition. Although I haven't tried all them, I trust this website's products.
ALL NATURAL PAIN RELIEF: