Didn't win? Not to worry, just head on over to March's Give-A-Way!
Win a pair of beautiful Chihuahua Earrings!
A Pair of these beautiful enamel and sterling silver earrings could be yours! Your choice of pink or blue.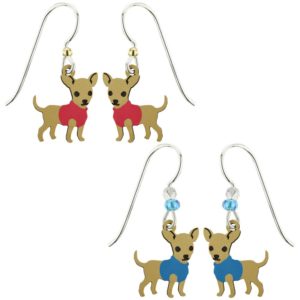 Contest begins February 1, 2017, at 5:00 pm Central Time and ends February 27, 2017, at 5:00 pm Central Time.
TO BE ENTERED YOU MUST FILL OUT FORM BELOW
PLEASE READ INSTRUCTIONS:
All you have to do is enter the information below and share the contest on Facebook, Twitter, or Pinterest! (Your information is private) That's it. You can share it as many times as you like to increase your chance to win.
You must be at least 18 years of age to enter. There will be only one winner. The winner will be notified by e-mail. Only the winner's first name, last initial, and state of residence will be announced on our Facebook page and on our website for your privacy. See Our Privacy Policy.
[contestfriend contest="5682″]
I ask one more thing. I need your help. I HATE spam! Don't you? I don't want to jam up your inbox with STUFF that is not relevant to you. I want you to be anxious to open my emails because you know that I will only send you information that YOU are interested in.
There are only 6 questions and I promise it will only take a second. Thank you for taking the time to help me.
To help, please CLICK HERE