For a limited time, ChiChis And Me and NomNomNow is offering 50% off your first two orders of homemade real food for your dog.
The meals are individually portioned according to your dog's nutritional needs.
All meals are certified and veterinarian formulated by their own Veterinary Nutritionist, Dr. Justin Shmalberg
All meals are human grade, gently cooked dog food and the vitamins are natural not added supplements
All meals are cooked fresh, delivered fresh and served fresh.
There are no additives and no artificial ingredients.
They are shipped to you in individual packages and the shipping is free.
They even give discounts for multi-dog families! Yea, that's me.
 ORDERING AND DOG FOOD DELIVERY
In the process of ordering, it became obvious to me that NomNomNow really cares about their customer's four-legged family members.
There are five different recipes to choose from and the all natural ingredients are listed for each one of them.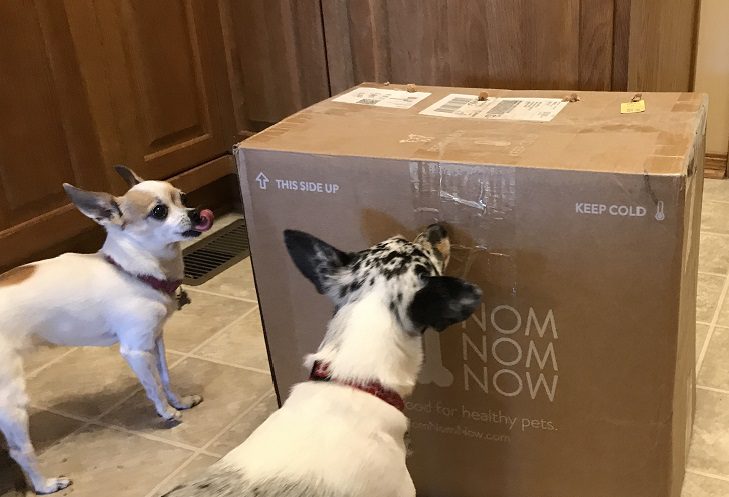 I was impressed that they don't just end it there and leave you in the dark, so to speak. They send you a follow-up email explaining what to expect next and exactly how to transition from the food they have been eating to the new fresh ingredient foods. You should never just abruptly change your dog's diet.
There is a download for new customers to help guide them through the process. With the first order, they send free samples of all the recipes in case you have a picky eater (my Pebbles is one) that may not like the one you chose. If it turns out that your dog loves it, you can spread the love and send a friend a free sample box to try. My dogs honestly LOVE it!
There is no obligation to try it. If your dog(s) don't LOVE it, just cancel, they've made that easy too. This offer is for a limited time, so now is the perfect time to try it.

Read Part I of my three part review: READ HERE