HOW SHE CAME TO US:
Pebbles was born on August 26, 2006. When she first came to live with us she belonged to our youngest son, Nicholas. Our son was newly divorced and he came to live with us temporarily while he found a place of his own.
He mentioned while he was living with us that he would like to get a dog. I told him he was welcome to bring a dog home, but it had to be a Chihuahua. He liked the idea and we together looked for a Chihuahua. We found a litter with some long-haired and some smooth coat puppies. I fell in love with a little brown and fawn colored long-haired puppy. But Nicholas saw a fawn and white one that he immediately decided was "the one". So, we took the tiny little fawn and white puppy home with us.
When Pebbles was 6 months old and had just been spayed my husband and I were moving to Texas for 3 months. We all decided that it would be better for Pebbles to go with us because Nicholas would be gone to work all day and Pebbles would be alone. We on the other hand would be home everyday except for a few hours a day and even then she would have Chico as company. So, although it was hard for him to let her go, he did the right thing for her and Pebbles went with us.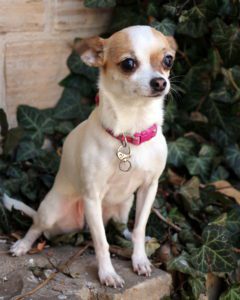 Well, of course we fell in love and bonded with her while we were gone. I didn't even want to think about her moving away when my son did. It broke my heart just thinking about it. In the mean time our son had found an apartment that he wanted but they did not allow pets. I was so relieved and he was relieved that we readily agreed to keep her. As they say, all's well that ends well.
WHO PEBBLES IS:
Of course, when I look back at it now, I am SO grateful to Nicholas. He picked the perfect little Chihuahua. I know all Chi moms will say the same about their adorable little fur baby, but Pebbles really is the sweetest Chihuahua in the whole world! There is none like her and there will never be another one like her.
She is very sensitive and obedient. She has always been very submissive and eager to learn. She will forever have a big piece of my heart.