Are you or a friend adopting a dog or a puppy?
Whether you are having a child dog themed party of if you are having a party for dogs, here are some great ideas. If you or a friend are adopting a dog, I think a celebration is in order! Not only will it be fun, but it's a fun way to socialize your new dog or puppy
First things first, the planning:
Who to invite
Sending invitations
Prepare for dogs getting together
Expect accidents!
Have disposable cameras ready
Don't forget the food, for the dogs as well as the humans
Have plenty of water on hand
Don't forget the fun and games
Who to invite: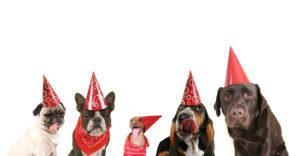 Invite a few dogs and their owners. Be sure the dogs know each other and play well together. Of course the new one is a wild card, so make sure there is lots of supervision. It would be best if you hire someone or invite a friend that you know is good with dogs to be the supervisor of the dogs for the duration of the party.
Sending invitations:
Unleash your creativity. There are several free design programs on the web that are great for this. There are a couple that I use all the time: pixlr.com and canva.com are my favorites. But check them all out you may find one you like better. You can send them snail mail or e-mail them.
Prepare for the dogs:
Brush up on the best way for dogs to greet each other. Do a little research. The best way of introduction is outside in neutral territory. Keep them all on a leash and let them do what dogs do, sniff and greet.  Make sure that each dog's owner has control of his or her dog during the meet and greet. Once they have all gotten acquainted and there are no aggressive behaviors you can walk them to a fenced yard or dog park if you decide to have the party there.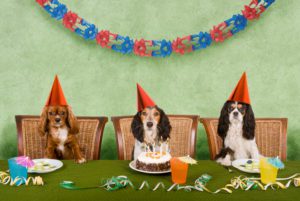 Expect accidents:
With all the excitement and food and drink, there are going to be accidents or nature calls. Ask everyone to bring baggies and clean up after their own dog.
Have disposable cameras ready:
Give everyone a disposable camera and give out gift bags with memorabilia to send home. Create great memories of the occasion.
It's all about the food:
Dogs love food as much as the humans. Make sure you have plenty for them both. Try to make snacks that are healthy. There are "good for them" recipes in our monthly newsletter (if you haven't subscribed yet, you can do it here:) There are also a couple of good ones at the end of this post to get you started. I'm sure you already have plenty of healthy people snack recipes of your own.
Have plenty of water on hand:
Make sure you have plenty of filled water bowls and have someone in charge of refilling if necessary. It's also a good idea to have as many bowls as there are dogs.
Don't forget the fun!
Keep everyone entertained. It is a party after all. Below are a few games to get you started, but again, if you do a little research, you can find lots of games that will be fun for dogs and humans alike.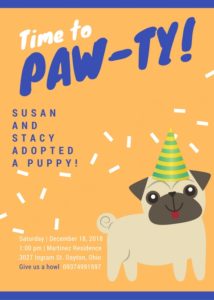 EXAMPLES OF INVITATIONS: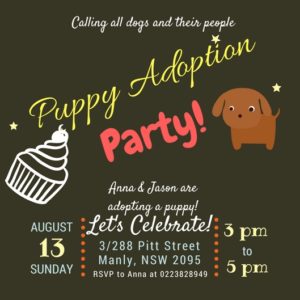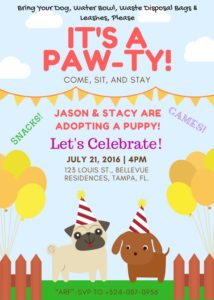 SOME "GOOD FOR THEM" RECIPES
Sweet Potato Dog Chews
I do believe that this is the simplest recipe I have found so far. I haven't tried it on my dogs yet. So you and your dog be the judge and please let me know if they like them. They certainly would be good for them.
Ingredients:
Sweet Potatoes
Directions:
Preheat oven to 250 degrees F.
Wash Sweet Potatos
Slice sweet potatoes lengthwise about ¼ inch thick. Place on a baking sheet.
Bake for 3 hours.  Turn slices about halfway through baking.
Cool on wire racks after baking.
Store in refrigerator for up to 3 weeks or freeze for up to 4 months.
Gourmet Dog Biscuits (From All Recipes)
"Dogs go crazy for these biscuits. When my dogs smell them cooking they know that it will soon be time for treats! You can use any type of meat broth in them, or just use water if broth isn't on hand."
Ingredients
3 cups all-purpose flour
3 cups whole wheat flour
2 cups cracked wheat
1 cup cornmeal
1 tablespoon garlic powder
1 tablespoon brewers' yeast
1/2 cup dry milk powder
3 cups beef broth
1/8 cup milk
Directions
Preheat oven to 300 degrees F (150 degrees C). Grease a cookie sheet.
In a large mixing bowl combine white flour, whole wheat flour, cracked wheat, cornmeal, garlic powder, brewer's yeast and instant milk. Stir in 2 cups broth. Mix the ingredients well using either your hands or an heavy duty electric mixer. The dough should be very stiff. Gradually mix in the remaining 1 cup broth to make a bread-dough consistency.
Roll the dough out to a 1/4 inch to 1/2 inch thickness on a floured board. Cut out biscuits into any shape you please. Place the biscuits on the prepared cookie sheet. Brush the tops of the biscuits lightly with milk.
Bake the cookies 45 minutes; turn oven off completely but do not remove the biscuits. Let the biscuits sit in the oven overnight (for 10 hours). Store biscuits in an air-tight container.
A FEW GAME IDEAS:
Agility Contest
Set up hurdles and zig-zag, have a space where dog and parent have to sit for 5 seconds, set up a fabric tube for the dog to run through. Time each participant and the fastest is the winner!
Beat the heat
Buy a kiddie pool and fill it with water add a sprinkler nearby and sit back and watch the fun.
Best dressed dog
Give out prizes for best dressed, most original and funniest.
Dog Tricks Brush-up
Give out prizes for the best "sit", "stay", "rollover" and "shake-a-paw".
Dog and parent caricature
Want to really impress your guests? Hire a caricaturist to draw a picture of both the dog and parent together.
Bobbing for hotdogs
Fill a bucket with water and put some cut up hotdogs in and watch the dogs bob for them. It's great fun for them and fun for you to watch!
I hope this has inspired some ideas of your own and that you have great parties for you and your friends and all your dog's friends in the future!