Every week I scour the internet for deals on products that I use, need or just wish I had. I read all the reviews and make sure that they are products that if I don't use them, they are products that I would use on or give to my own dogs.
I've been writing a series of posts about training your Chihuahua and I am still in the process of training Remedy, so this week I looked for great dog treats. Treats for training and treats that are healthy.
This Week I looked for the best and healthiest training treats. Most are on sale now: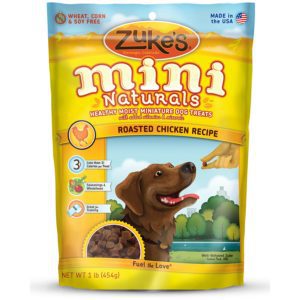 Zuke's Mini Naturals Dog Treats
Take your dog's training to a tasty new level with healthy and nutritious Mini Naturals from Zuke's. Minis are the ideal size for frequent rewards without overfeeding. At just 3.5 calories each, every moist little morsel is packed full of quality protein, wholefood antioxidants, and a mouthwatering taste.
Salmon, Chicken, Pork, and Rabit flavors
Unlock extra savings with Subscribe & Save.
Unlock 15% savings on this product when you subscribe to 5 or more products that arrive in the same month. Skip or cancel anytime, and shipping is FREE. Learn more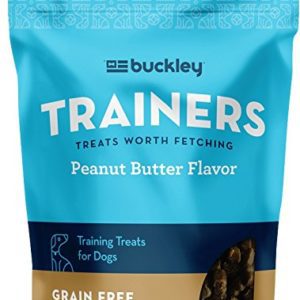 At Buckley, we believe big things often come in small packages. Like Buckley Trainers. Each small, moist treat is the perfect reward for your dog. They are low in calories but are big in flavor. Next time you want a guilt-free treat to reward good behavior, give some Trainers. You'll both be glad you did!
Get a $5 credit with Alexa. "Alexa, order a $25 gift card."
Ask Alexa to order $25 gift card and get an extra $5. Restrictions apply. 
Learn more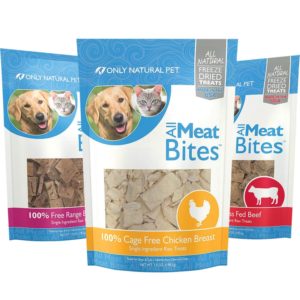 Only Natural Pet All Meat Bites are 100% freeze-dried meat for the ultimate in pure, natural taste for your pet. Completely natural with no fillers or preservatives, these free-range sourced meat "bites" have no added anything – just the natural, highly digestible protein goodness pets love.
The meat is not cooked, heated or steamed before it is freeze dried, so these healthy snacks have all the valuable nutrients of raw meat – which is what cats and dogs are designed to eat by nature! Grain-free and gluten-free, All Meat Bites are terrific for pets with grain allergies.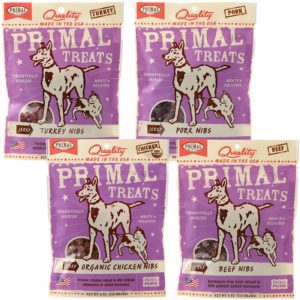 Primal Grain Free Jerky Nibs Treats are a dog and cat treat that's bite sized but big on flavor.
Made with high quality, single source proteins raised and sourced in the USA (the chicken flavor is certified organic!), Primal Grain Free Jerky Nibs Treats are naturally healthy and high in protein. Every flavor is completely grain free and gluten free and contains no preservatives – just the natural, meaty taste your dog and cat lovers.
Primal Grain Free Jerky Nibs Treats have a moist, jerky texture for a bite sized snack your dog or cat can enjoy anytime. Perfect for a high reward training treat.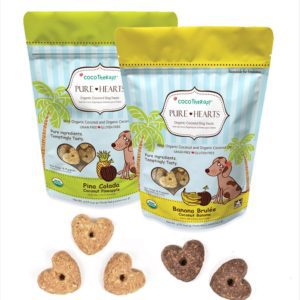 CocoTherapy brings a new scrumptious treat to the table with the Pure Heart Coconut Cookies. These gourmet treats are soft like fresh cookies, vegan, and grain and gluten-free! The ingredients are 100% natural, containing organic coconut, organic coconut oil, and organic coconut nectar and healthy for you, too! These natural ingredients support skin and coat health, oral health, a healthy weight, and a healthy digestive system.
Raw and Vegan
Grain and Gluten-Free
Dairy Free
No Eggs
No Trans Fat
No Preservatives, Colors, or Flavors
Low Glycemic
Each bag holds 5 oz of this delicious treat. USDA Organic certified and made in the USA. Always supervise your pets while providing toys or treats.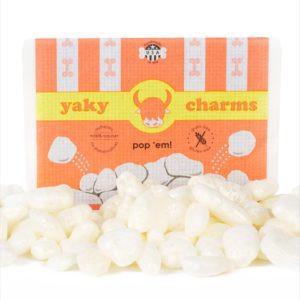 Yacky Charms are a light and fluffy high protein microwavable treat which comes in a popcorn-style popping bag. Yaky Charms come from an ancient recipe, to convert milk into a hard cheese, from the people of Nepal in the mountains surrounding Mt. Everest.
High elevation farmers have been carefully chosen to use traditional methods and without modern devices to milk cows and yaks daily. Cattle graze on natural pastures and are fed natural leaves from the surrounding forests.
There are no preservatives in Yaky Charms or binding agents, and they are gluten-free. All ingredients are 100% digestible. Made in the USA.
Each popping bag contains a net weight of 0.75oz. Following directions on the bag and leftover charms may be stored at room temperature. Must microwave before feeding. See additional info tab for ingredients and guaranteed analysis.

Get weekly featured products sent right to your in box every Saturday – CLICK HERE >
Looking for a GREAT gift? Need some ideas? CLICK HERE >