Only Natural Pet Presents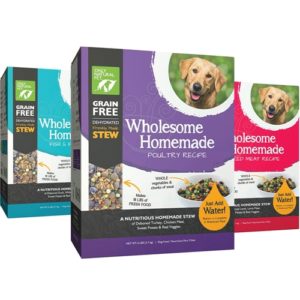 Turn mealtime into a celebration! Wholesome Homemade takes the guesswork out of making a freshly prepared meal, so you spend less time chopping, dicing and cutting and more time with your dog. Just add water for a nutritious, complete & balanced stew you can serve everyday.
Completely grain and white potato free, Wholesome Homemade features protein rich chunks of high quality cooked meat, nutreint rich dehydrated fruits and vegetables, like sweet potatoes, carrots, cranberries and spinach, and a collection of healthy superfoods, like turmeric and chia seeds.
Just add water and in 10 minutes, your dog will enjoy a freshly prepared, tasty stew that looks just like your food. Plus, you can make a batch ahead of time and store it in the refrigerator for later.
Cooked Meat Morsels
High quality meat that's naturally high in
protein for a species appropriate diet
Holistically formulated protein blends offer
allergy friendly options
Bioavailable source of naturally occuring nutrients, like essential fatty acids and
amino acid
Dehydrated Fruits & Vegetables
Gently dehydrated to maintain maximum nutrients, including vitamins,
minerals and antioxidants
Healthy source of low glycemic carbohydrates
Gravy Broth
Add water to create a freshly made stew
in a savory gravy
Plumps up your dog's food and encourages
healthy hydration

Get Auto Delivery & Save 15%