Meet Our Three Chis
If you have read my "ABOUT US" page, then you know that we have three wonderful little ones. I'd like to take this time to tell you a little bit about them, after all, it's because of them that I started this website.
Chico:
At this writing, he is 14 years old. He was given to me as a gift from my stepson, daughter-in-law, and my step-daughter. He came to live with us at only 9 weeks old. I can unreservedly say that he is the greatest gift that I have ever received!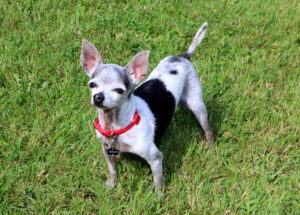 He admittedly is a little spoiled. He now has arthritis, doesn't see as well as he used to, finds it hard to get up and down the stairs, and is a little grumpy. However, at his age, I think he is entitled to be a little grumpy.
I'll tell you a little story about his name: Although we have had many pets including dogs as our kids were growing up, I had never had a chihuahua. Each time I get a new pet, it becomes my mission to think of a unique name. When I got Chico I wanted something Spanish (for obvious reasons) and unique. I had a friend at the time that was from Guatemala and she mentioned that "Chico" was an endearment for "little boy" in Spanish. Perfect! Or, so I thought. Little did I know that (almost) every male Chihuahua in the world was named Chico, or Chica for a female! Oh, well, so much for unique. The name fits him, though. I've always called him, Chico, my bambino because he will always be my baby.
Chico is ChiChis And Me "senior" ambassador. He is here to help with advice and tips on how to keep your senior Chi healthy and happy.
Pebbles:
My precious Pebbles is at this writing 10 and will be 11 in August of 2017. My youngest son got Pebbles when she was only 9 weeks old, and named her Pebbles because of the markings on her back that look like little pebbles. Because of a recent divorce, he was living with us temporarily at the time. I was with him when he got her, but she was his dog. He took her everywhere with him, they especially enjoyed fishing together. She was (and still is) such a tiny little thing and would just follow him around and stay right by his side.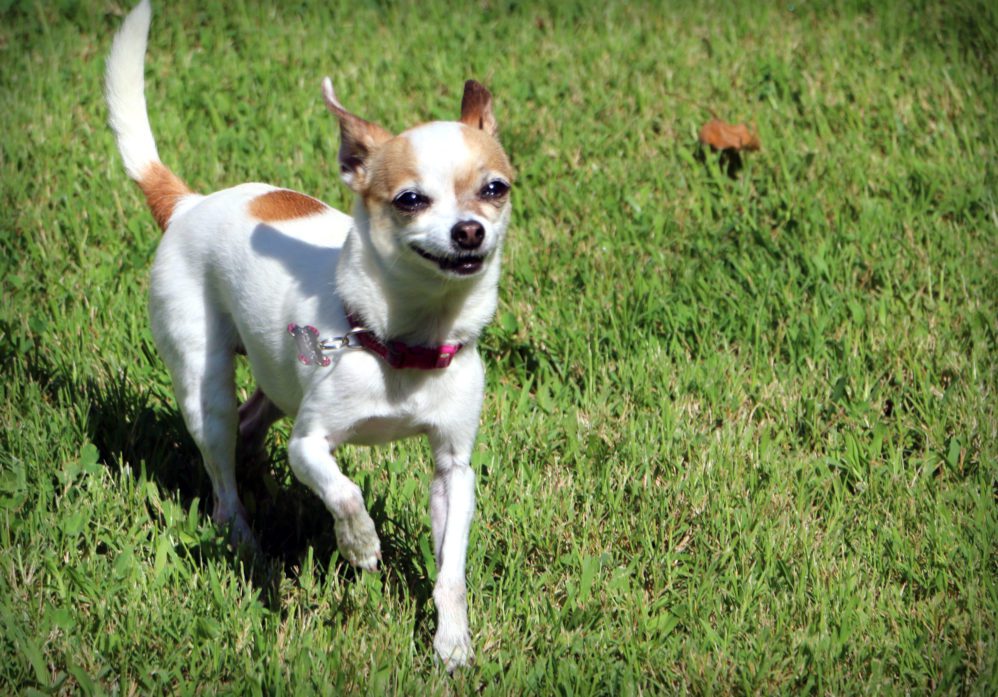 When Pebbles was only 6 months old, my husband and I moved to Houston for three months for some medical treatment. Pebbles was only 6 months old and had just been spayed, what we called her "big girl surgery". While we were gone she was going to be home alone all day while our son was at work. We all agreed that would not be good for her, so together we decided it would be best if she went with us. We were only going to be gone for three months and while we were there we would be home most of the day, plus she and Chico would have each other for company when we did leave the apartment.
Well, I think you can guess the rest. We fell in love with her in those three months and couldn't bare giving her up. In the meantime, unknown to us our son had found an apartment, but they didn't accept pets. Naturally, we were delighted! She's been our sweet Princessa every since. All's well that ends well, as the saying goes.
I'm sure all Chi parents say the same thing, but it is true that Pebbles is the sweetest dog on earth! She has such a sweet, submissive disposition and personality. The only time you will ever hear her growl is when you play tug with her and even then it sounds more like someone's stomach rumbling than a growl.
Pebbles is such a sweet submissive Chi. She is what all Chihuahuas were meant to be. Pebbles is here to help with any health, training, or nutrition needs you may have.
Pebbles is the smallest of our three at only 4.4 lbs soak and wet. Chico is next at 5.5 lbs. She is very shy around new people or dogs, but will soon warm up to them and everyone that meets her loves her. I call her my little princessa, which means princess in Spanish (from Beverly Hills Chihuahua).
Remedy Jane:
Miss Remedy came to us in July of 2015. She, at this writing, is 2 years old. You know how sometimes when your human children are a few years old, you start dreaming of having another baby? Well, that's exactly what happened to me. I began to notice Chico getting grayer, slowing down and obviously getting older. I started thinking how sad it would be to just have one Chihuahua in the house, both for us and for Pebbles, who has been with Chico all her life.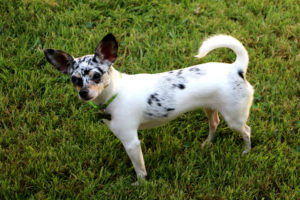 Well, we discussed it and my husband finally gave in (it wasn't too hard to convince him). We decided to give another Chi fur baby a new home. We searched for awhile and found a wonderful breeder not far from us. I know that there are many little Chihuahuas in shelters that need furever homes, and we did consider that, but we found none that we thought would fit into our family, and I didn't want to wait.
I was careful to check out breeders and make sure that they were responsible and caring with their dogs. MORE ABOUT PUPPY MILLS
It had been 10 years since I'd had a puppy in the house, I soon realized that although I knew it would not be easy, I'd forgotten just how difficult it was to take care of a puppy. Potty training, chewing, biting, etc. and how much time it takes to train them. But, happily, we have now been through the tough part. She is still a rambunctious little teenager in dog years, but well-behaved for the most part. Remedy Jane is ChiChis "puppy" ambassador, to help with all your puppy questions.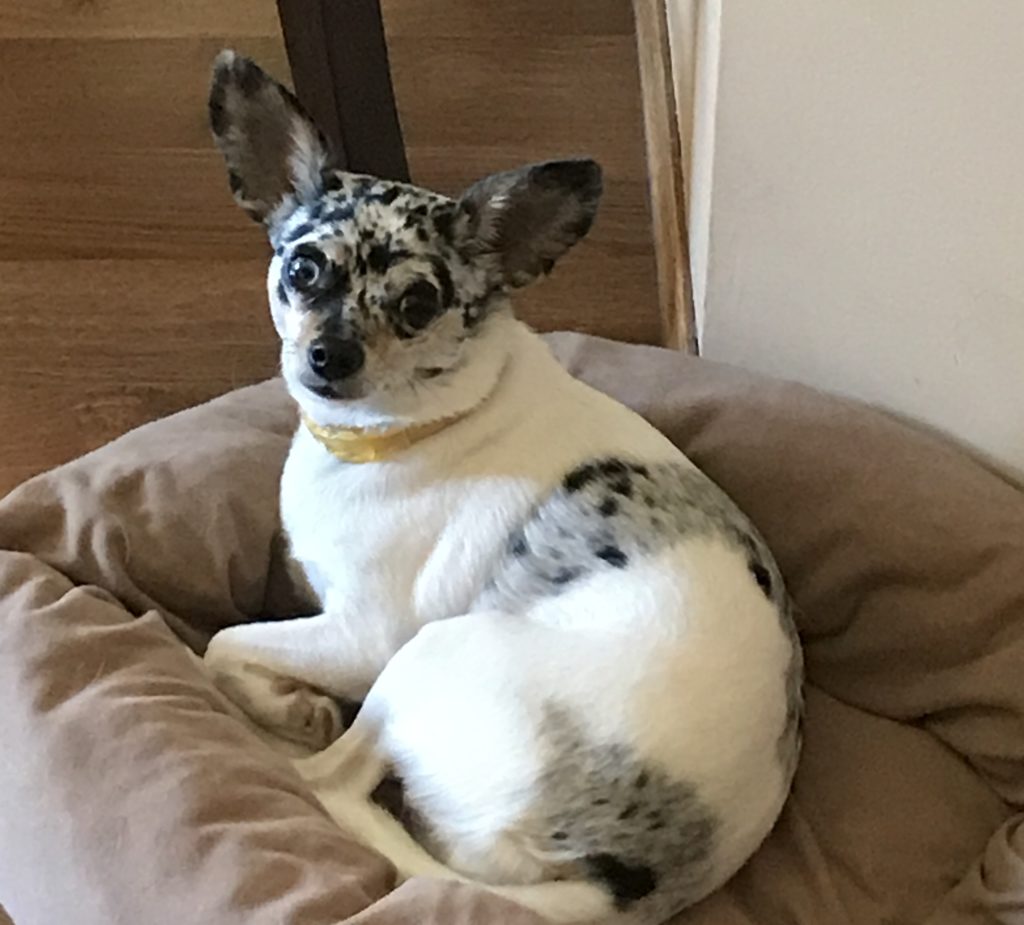 We had a very scary incident happen when she was only 9 months old, but again, happily, she came through it with no permanent injuries or scars. It is, however, a cautionary tail (pun intended). You can read about it here: READ REMEDY'S STORY
Remedy is a blue merle, dear-head Chihuahua with one blue eye. People remark about her beautiful and unusual markings. Remedy is our big baby and I mean that literally. She weighs a whopping 8.8 lbs. That's pretty good sized for a Chihuahua, but not unusual. Healthy Chihuahuas can weigh anywhere between 2-10 lbs. However, if you want to show your Chihuahua they can weigh no more than 6 lbs according to the AKC.
This was my chance to think of a unique name. Again, well, sort of. The breeder named her puppies just so they would know who is who. They named each litter with a name that started with the same letter. Remedy's litter were named, Remedy, Ramiro, Rumor, Reed, and Ryker. I didn't choose her for her name, but I liked it and it was unique, so I kept it. I thought it fit because she was the Remedy for my pining for a baby. 🙂
I am in touch with Rumor's mommy and her name is now Ivy. They look so much alike, she and Remedy. I gave her the name Jane because it rhymed with Calamity Jane and I thought it was cute and at the time, fitting. She was a puppy, after all.
So those are my three beautiful, precious babies. I now have a senior, an almost senior, and a teenager (in dog years) in my house. They are the light of my life. When things get tough, they are always there to listen, sympathize and never, never do they judge. There is nothing like having a doggie companion. Sorry, cat people. I love cats too, but cats just aren't as good listeners as dogs are. Do you agree? Leave your comment below.
Thank you for taking the time to get to know us. We'd like to know more about you. We love hearing from our readers! Just leave us a question or comment below.