THIS GIVE-A-WAY HAS ENDED
AND THE WINNER IS……KARLA M. FROM IOWA!!
CONGRATULATIONS KARLA!
BUT…. DON'T MISS THIS MONTH'S GIVE-A-WAY! IT'S OUR BEST ONE YET! TO LEARN MORE ABOUT IT, JUST
Win this "Love to the Rescue Bangle Bracelet"
This beautiful bracelet could be yours! All you have to do is enter below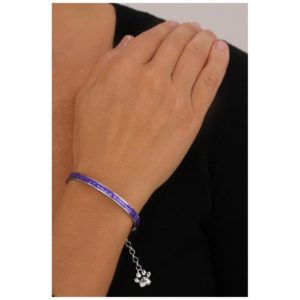 Contest begins March 1, 2017, at 5:00 pm Central Time and ends March 28, 2017, at 5:00 pm Central Time.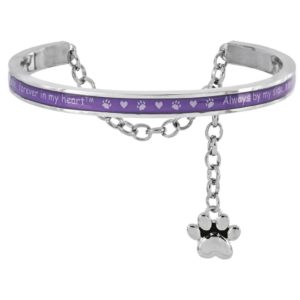 Always by my side, forever in my heart™.
Cherish the love shared with your pet with this bangle bracelet that honors pets at your side or fondly remembered in absence. A delicate paw print charm dangles from the clasp chain.
Silver-tone metal & enamel
2.25″ diameter (5.7 cm)
Imported
TO BE ENTERED YOU MUST FOLLOW THE INSTRUCTIONS BELOW.
PLEASE READ INSTRUCTIONS CAREFULLY:
Click the ENTER button below and fill out the form. After you have filled out the form, click the "back" button on your browser and share this page on Facebook, Twitter, or Pinterest by clicking on one of the "SHARE" buttons below.  (Your information is private) That's it. You can share it as many times as you like. (if you don't know how to click the back button on your browser, just come back to this page on our website.)
You must be at least 18 years of age to enter. There will be only one winner, chosen randomly by a software program. (I have no control over who wins) The winner will be notified by e-mail. Only the winner's first name, last initial, and state of residence will be announced on our Facebook page, our website, and in our April Newsletter, for your privacy. See Our Privacy Policy.
In behalf of the winner of this bracelet when ChiChis And Me purchased this bracelet, ChiChis And Me gave the value of 35 bowls of food to animals in shelters and sanctuaries. Funds are divided between The Fund for Animals and Humane Society of the United States (HSUS), the International Fund for Animal Welfare (IFAW), and Rescue Bank.
Consider this a gift from you too! Thank you for visiting our website and for entering our give-a-way!