Article by: Keith Carls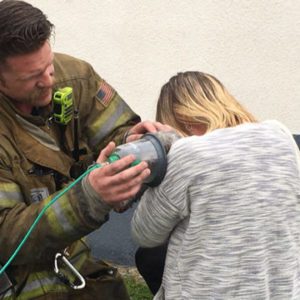 ORCUTT, Calif. – No life is too big or to small, and for an Orcutt firefighter, it was all in a day's work. Thanks to Andrew Klein, a little dog named Nalu is alive and back with its owner.
Two weeks ago Klein and his fellow firefighters responded to a structure fire at an apartment building near Santa Monica High School where everyone got out safely.
When he learned there was a dog inside one of the apartments that had not come out, Klein went in looking for the dog.
"I went in, checked the fire room, because we want to search from the most danger out, and I discovered Nalu the dog about ten feet from the fire, and he was totally lifeless", Klein says.
Klein brought the dog outside and began administering pet CPR.




"The rest of my crew met up with me and we got all the equipment out including our pet O2 masks that we carry on all of our Santa Monica apparatus", Klein says, "we started giving him pet CPR over the course of 20-plus minutes to get him back and now he's alive and well."
Nalu the dog is once again living with its owner.
Klein credits his training in pet CPR and his team of firefighters at the Santa Monica Fire Department for saving the dog's life.
Klein, who commutes to work as a firefighter with the Santa Monica Fire Department from his home in Orcutt, says he's stunned by the global reaction from the lifesaving rescue of Nalu the dog
"I had messages from Ukraine, France, Italy, Sao Paolo, Brazil, literally all over the world", Klein says, "I'm getting messages on my own time when I'm away from work, its very unique that people are reaching out like that, its very touching that people do love pets and that we're able to save a pet and make a difference and have such a striking effect across the world that people see that we care about all forms of life."
Article from
http://www.keyt.com
Would you know what to do in case of an emergency? Do you know pet CPR?
LEARN HOW

You can share this by clicking on one of the icons below: