This Chihuahua named Poncho is living large.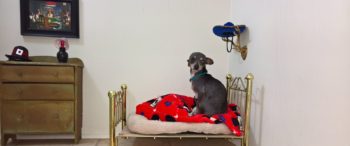 He has his very own bedroom underneath his owner's stairs, equipped with a bed fit for a king, an oil painting, a pint-sized dresser, a lamp and decorative antlers with his very own sombrero hanging from them.
"He is terribly spoiled," Poncho's owner, Betty McCall, of Pitts, Georgia, told ABC News.
She built the personalized room for her pooch along with her two sisters, Carol Rowe and Gale Bemis, but the whole idea started as a funny project "mainly to aggravate my carpenters," McCall laughed.
"Poncho gets really nervous when there's a lot of people so I always had to have a dog crate so he'd have somewhere to go to calm down when people were over," she explained.
But why have a crate when he can enjoy his very own boudoir?