I love brushing my dog's teeth ~ said no one, ever!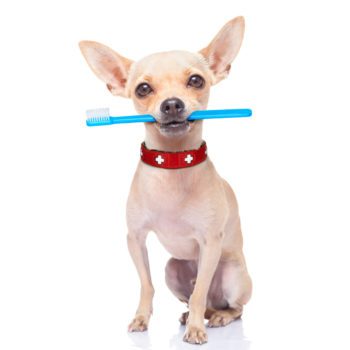 Trying to be a good mom to my three Chi's meant trying to keep their teeth and gums healthy. THAT meant brushing daily. What a struggle! It started with struggling with them daily, to every other day, to weekly, to monthly to NEVER!
I don't like to admit that, but, there it is. I am pretty sure that I'm not alone in that.
Then, a life saver came along. I found a DIY homemade pet toothpaste. It is fantastic! No more struggling to brush their teeth, or worse, feeling guilty for NOT brushing their teeth.
It is so easy and only takes a few seconds each day. There is even one for getting rid of gingivitis. Instead of a brush, you just rub it on with gauze. So easy!
I would love to claim credit for this, but it is from Dr. Karen Becker.
Here are the recipe and Dr. Becker's video.
Combine in a jar:
2 TBL Baking Soda
2 TBL Coconut Oil ∗
1 Drop Peppermint Oil
For Gingivitis, add:
10 Drops Colloidal Silver
1 tsp. Colostrum
1/2 tsp Tumeric Root
Mix well and rub on your dog's teeth with gauze
∗ Coconut oil is good for many things including skin and coat

Want more like this? Get more DIY projects and tip and advice right in your inbox, weekly. (it's FREE)CLICK HERE >>