The article in The Digital Digest first appeared March 12, 2011
CHICHIS AND ME INSPIRING CHIHUAHUA STORIES
MEET THREE STRAPPING LITTLE CHIHUAHUAS
I want you to meet, Kensi, Hetty and G. Three little Chihuahuas that were born with no front legs and dropped off at the MSPCA in Methuen, Massachusetts.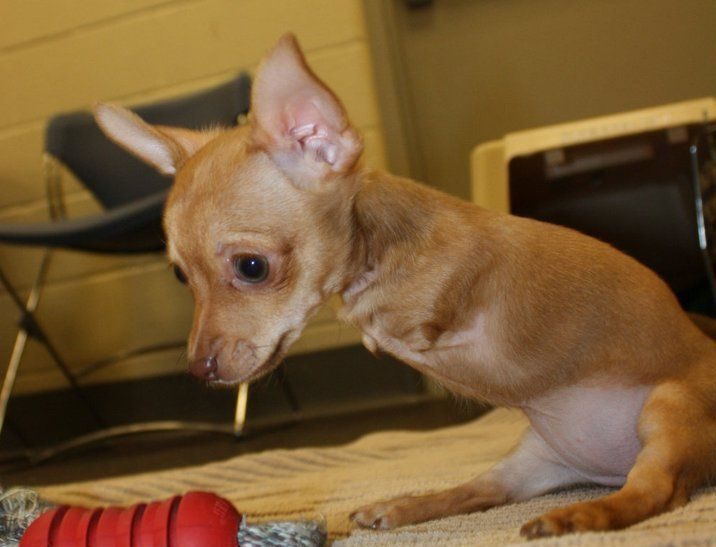 According to The Digital Journal, these puppies are being cared for by foster parents. They are working with them to strengthen muscles because it will help them be better able to use their back legs for mobility.
"The puppies astounded us with their upbeat and resilient nature," Mike Keiley, director of the Noble Family Animal Care and Adoption Center at the MPSCA at Nevins Farm, said in a 
press release
. "They immediately showed us that they could overcome their physical obstacle as they hopped and ran after each other."
Kensi, the darker colored puppy seems to be the most curious while Hetty is timid and G is a little shy, but they are coming out of their shells.
The MSPCA cares for many animals that are suffering from severe trauma and serious illnesses, and those that need behavior rehabilitation.
They say that although the condition is rare, it is often the result of overbreeding ~ as in puppy mills, but that they can be rehabilitated and go on to live long, happy, healthy lives.
Their Future
When they are about four months old, they hope to fit them with wheel carts that will support their upper body and will help them to be more mobile and to get around more normally.




In conclusion, Kensi, Hetty, and G just show us what I have always known, and that is that Chihuahuas are the sweetest and most resilient of dog breeds despite their tiny size, and can overcome some of the worst that life has to throw at them.

Because of instances like this one, it is my mission to educate people about

puppy mills

and hopefully someday eradicate them all together! Remember that no demand = no profit for puppy mills.

Want more inspiring stories about tiny Chihuahuas overcoming big obstacles? Subscribe to our blog and don't miss the next one! To subscribe, CLICK HERE >>