Is Feeding Your Dog Homemade Dog Food Better?
Are you, like I was, always looking for homemade dog food recipes on the internet? You know that natural ingredient dog food has to be healthier for your dog than the processed dog food that you find in pet stores. I even publish a "Good For Them" recipe each month in our Newsletter.
What I've Learned
I am a big believer in feeding dogs homemade, human grade dog food with natural ingredients. I've done a lot of research on this subject and have learned about all the health hazards of feeding commercial dog food found in pet stores around the world.
I was after that research ready — more like, determined — to feed my dogs homemade dog food recipes. You can find them anywhere on the internet and most of them are really easy to make.
Are There Problems With Feeding Homemade Dog Food to Your Dog?
But, hold on, before you jump into that. I also did much research on nutrition, more specifically, nutritional needs of dogs.




With that being said, I am not a veterinarian nutritionist, and I venture to guess that you aren't either. If you are, you don't need this article or any of my advice.
The Problem With Feeding Homemade Dog Food Recipes
Therein lies the problem. Are those recipes giving your dog all the nutrition that they really need? Not according to Holistic Veterinarian Dr. Karen Becker. According to Dr. Becker most people that are feeding their dogs, homemade recipes are making mistakes. Serious mistakes.
The first mistake dog parents make is one I just mentioned. Not understanding the basics of Canine Nutrition. Dr. Becker says that most are nutritionally unbalanced and that this can cause dogs to become deficient in antioxidants, or the correct amounts of trace minerals and vitamins or the right amount of fatty acid needed for skeletal growth, and organ, and immune health. Just because your dog doesn't show signs of these deficiencies mean that they don't exist.
Many well-meaning dog guardians are confusing balanced nutrition with feeding raw muscle meat to their dog. Although fresh meat is a good source of protein and some minerals, it doesn't mean it is a balanced meal. Some people believe in the basic "80/10/10" diet. Dr. Becker says that it also is unbalanced and will cause significant health issues over time.
The third mistake is forgetting about roughage. In studies of wild wolves, they have noticed that during certain times of the year they will eat up to 38% plant matter. We know that our domesticated little darlings will graze on grasses and plant matter for a variety of reasons. Dr. Becker says that one of those reasons is their body's requirements for enzymes, fiber, antioxidants, and phytonutrients.
Number 4 in making mistakes is ignoring the need for supplements. Dr. Becker says that there are only two options for feeding your dog nutritional adequate homemade diets. Either by feeding a more expensive whole food recipe or using supplements.
Mistake no 5 is letting safety concerns scare you. There are many organizations, including some conventional veterinarians, agencies and the processed food agencies — of course — that have taken a public stand against raw pet food diets. Frankly, I'm not sure if I go along with that or not. That is why I feed my dog(s) NomNomNow homemade natural dog food that is formulated by a veterinary nutritionist. I am confident that it has the balanced nutrition that dogs need and that it is gently cooked, so I'm not concerned whether a raw meat diet is harmful or not.
Conclusion
I know that some of you don't understand or have a burning desire to provide the minimum nutritional needs necessary to keep your dogs healthy longer.
Some of you would like to but don't know how or where to start. Some don't think that you can afford it. For you, I urge you to read my review on NomNomNow, mentioned above.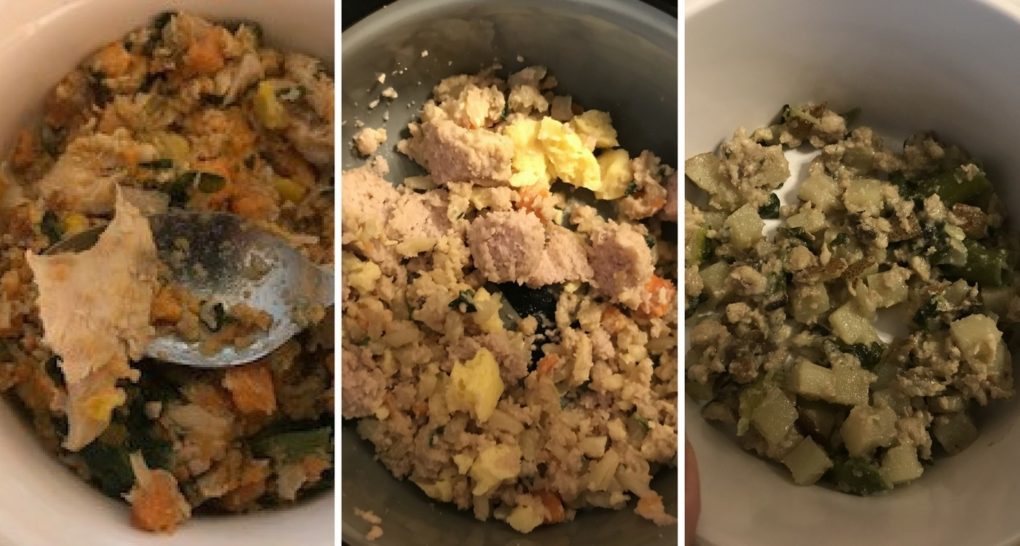 I know, too that some of you are thinking, that all this is just poppycock and that you are sure you are feeding your dog(s) food that is nutritionally sufficient or that you trust that the dog food industry cares enough about your dog to make sure that they are producing completely healthy food.
But, don't just take my word for it. You can learn more from a holistic veterinarian like Dr. Karen Becker who teaches others about the necessary nutrients needed for optimal health for their dogs and how to do it properly. That is the source of this post and you can find it here >>