I love Chihuahua survival stories. I get notifications when there are news articles printed that concern Chihuahuas. Many of them are so sad and tragic. Those I read, but don't pass on to you. I prefer to tell you about the ones with a "happily ever after".
This one was originally reported in the Seatle Times on July 26, 2017, by Christine Clarridge  Seattle Times staff reporter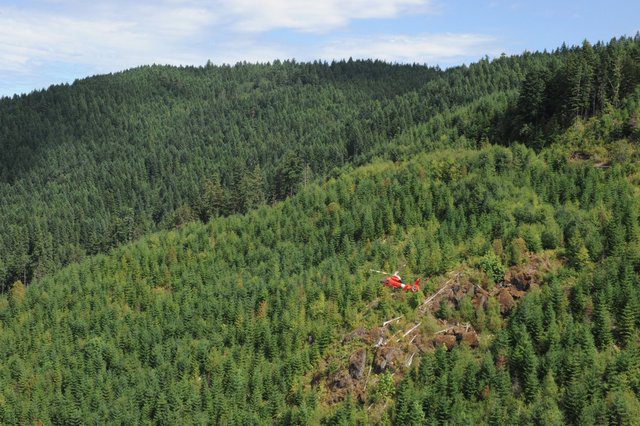 A 71-year-old Port Angeles woman and her dog were found thirsty and hungry, but alive and well, after being stranded for nearly a week in Olympic National Park.
The woman, who was identified in the Peninsula Daily News as Sajean E. Geer, was evacuated around 7:15 p.m. Sunday with a Coast Guard helicopter and transferred to medical personnel at Olympic Medical Center in Port Angeles.
Coast Guard Sector Puget Sound had received a call at approximately 5 p.m. from the Air Force Rescue Coordination Center, an inland search-and-rescue coordinator, requesting help with transporting the hiker.
Geer and her terrier-Chihuahua dog, named Yoda, had been stranded for six days, according to the Daily News. She was found about 10 miles south of Port Angeles Sunday by rangers with the U.S. National Park Service who had been searching for her for nearly a week.
Her brother had reported her missing on Tuesday.
Penny Wagner, a park spokesperson, told the Daily News that Geer told rescuers she had been in the park since July 17 and had survived by drinking water she found nearby.
Other than being hungry and thirsty, she was unharmed, Wagner said.
"It's such good news for the family and for her," Wagner told the Daily News. "It's really a good ending."